When your gutters are working as they should, you probably don't give them a second thought, but when clogs, leaks, and other issues develop, significant damage can result if you fail to address problem areas. Old gutters can be a real liability for your residence or commercial building.
When it's time to replace your gutters, however, you'll find there are a lot of decisions to be made. What size of gutters do you need? Which materials are going to provide the best performance and durability? You also need to determine which style of gutter is going to best serve your needs and enhance the look of your structure.
The experts at Top Notch Seamless Gutters are qualified to assist you in making all of these decisions, and if you're looking for the best style of gutter, we offer half-round gutters that provide both the function and form discerning customers prefer.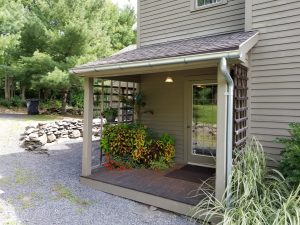 What Do They Look Like?
You may be familiar with K-style gutters, which are square-shaped and look like a bit like a trough hanging under the eaves. This common style became the standard for American homes around the 1950s and it is considered more modern looking than the traditional half round gutters.
Half round gutters, on the other hand, denote a classic appeal due to their curved appearance, which, as the name implies, is curved like a pipe that has been cut in half. If you have an older structure and you're replacing half round gutters, you should always stick with this style so that your gutters don't look out of place.
What about when you're replacing gutters on a newer structure? The good news is that half round gutters will work just as well on a newer structure as an older one because of the simple, classic design.
Are They Better?
In addition to the visual appeal of half round gutters, you'll also find this style has a number of advantages over other options, like K-style gutters. For one thing, half round gutters tend to be a little more heavy-duty, even if they're made with the same materials. They are also attached to the structure with brackets, unlike K-style gutters that are attached directly to the structure.
This can entail some extra expense, but it's well worth it because it makes the gutters sturdier and the configuration tends to entail less upkeep. If you're looking for low-maintenance gutters, half round options fit the bill.
This style of gutter is also less prone to corrosion due to the smoother shape – there are no corners for water and debris to get trapped in. Water and debris tend to flow more easily through the half round shape, as well, so you're bound to experience fewer clogs with this style of gutter.
It's not easy to choose the options that will deliver the best performance and longevity when it's time to replace your gutters, but the pros at Top Notch Seamless Gutters are prepared to offer expertise and help you to find the best possible products for your wants and needs. Contact us today to schedule an appointment for a free estimate.