Choosing the right gutters for your home or business can seem overwhelming, with so many options to consider. The size, shape, and materials you select could all have an impact on how well your gutters perform, how long they last, and how much you'll have to spend not only up-front, but in maintenance, repair, and replacement costs down the line. If you don't have any background knowledge going in, you may become understandably confused and frustrated by the many options you have to sift through.
The good news is, you don't have to go it alone. With assistance from the pros at Top Notch Seamless Gutters, you can get all the information and advice you need to make the best choice for your home or business. This begins with selecting appropriate materials for your gutters. Should you choose copper or galvanized steel gutters for your property? Both offer myriad benefits.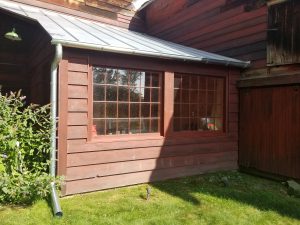 Galvanized Steel Gutters
Galvanized steel gutters are a step above aluminum. What makes them better? Aluminum is cheap, to be sure, but you get what you pay for. Galvanized steel is still an affordable option, but it offers much greater strength and durability. If you're working on a tight budget, choosing this material will give you the most bang for your buck.
Galvanized steel is not only among the most affordable options for gutters, but it is also fairly easy to install, it tends to retain its color, and with proper upkeep, you can expect your galvanized gutters to last as long as about 20-25 years. The strong and durable nature of this product ensures that you can get affordable gutters that last.
Copper Gutters
You'll notice right away that the cost of copper gutters is higher than other materials, but for the money you'll enjoy greater performance and longevity, and this could end up saving you a lot in the long run, whether you're outfitting your home or your business with new gutters.
Whereas galvanized gutters could last twenty years or more with proper care, you might be surprised to learn that copper could last more than four times as long. That's right – copper gutters that are regularly cleaned and maintained could last over 100 years. Although you'll spend more up front for this product, think about what you will save over replacing the gutters four or more times when you choose another material.
Copper gutters are not only stronger and more durable than other materials, but they're also made largely from recycled materials, so they're a great eco-friendly option. In addition, they develop a beautiful patina over time, which makes them a eye-catching feature on any structure. Of course, they also add value to your property because of the many benefits they infer.
Ultimately, you will have to decide whether galvanized steel or copper gutters are right for your residential or commercial property. Top Notch Seamless Gutters can assist you with finding the right products and provide a free estimate to get started. Don't hesitate to contact us today for your free estimate to get the ball rolling on brand new gutters.